Open kitchen shelving provides handy storage and visually expands a kitchen space. A popular kitchen trend is to remove existing upper cabinets and install open shelves in their place. The shelves are often found in the form of floating shelves.
Floating shelves may have traditional brackets, which are seen. We love the new industrial look of these shelf brackets. 
Photo: The Original Granite Bracket
Brackets can also be hidden in the wall before Sheetrock goes up so that the finished result gives an illusion of floating. The brackets are installed in such a way that you never see the bracket at all. After the bracket is hidden you simply add the shelf to the exposed bracket. By using this type of shelving, you have the ability to put your shelves anywhere. Even the smallest places will not look cluttered when you install floating shelves.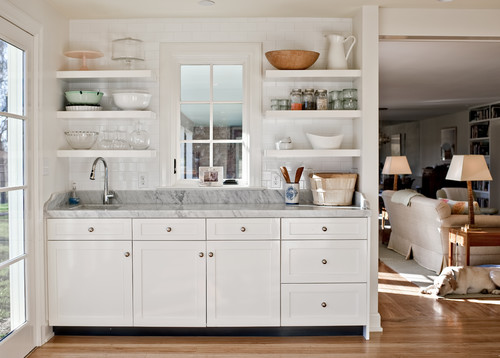 Floating shelves look fragile to the naked eye because of the way they sit on the wall. All the workings of the brackets are hidden so it seems as though they are floating there on the wall. In reality they are usually much stronger than other types of shelves which are supported with traditional brackets and screws. Other options to open shelving is to use shelves with decorative brackets or to just remove a few of the cabinet doors. Once they're removed, fill in the holes, touch it up and voila! You have open shelving. With open kitchen shelving the items are always visible, so you want to keep them as organized and attractive as possible.
Now that we have your creative juices flowing here are 5 tips to help you make your open kitchen shelving aesthetically pleasing and functional.
1. Keep the shelf design simple so that it doesn't compete with the items set on it. But make sure the design coordinates with the style of your kitchen.
2 Display only those items that you love and find attractive. Don't display food boxes unless you store them in attractive containers or baskets. Baskets are great for containing small items. Besides function, they also bring texture to a display.
3. Group like things together either by color, shape or function. For example, you might want to display your collection of pitchers or all white mixing bowls. For everyday dishes, keep each type of plates or bowls together.
4. Store what you use in a way that is functional and works for you in the kitchen. But to keep it visually pleasing, put the heavier items like plates and serving bowls on the bottom shelves and the lighter items like cups and wine glasses on the top.
5. For added impact, highlight your dishes with a contrasting background. For example, with light dishes use a darker background and for dark dishes, use a lighter background. 
Open kitchen shelving can make a small kitchen feel larger. There are lots of great options for kitchen storage that would look great on open shelving. Just remember to keep things neat and organized. Be sure to check out our Shelf Brackets to ensure your open shelves are sturdy, safe and look fabulous, too!