Yes, we have the word "granite" in our name and yes, we often refer to our countertop support brackets as "granite brackets," but our brackets are made to support many types of countertops. All types of natural stone, in addition to engineered stone, butcher block, concrete, recycled glass, and solid surface materials (Corian) are all great candidates for our Hidden Countertop Support Brackets. Despite our name, we really don't play favorites; we think the variety of available materials is fabulous and make for beautiful countertops. Here's a look at the top four favorites among consumers in 2017.
1. Granite
While granite has more competition than ever these days, it remains a very popular countertop choice, cited as the top choice for users overall at 41%, according to the most recent Houzz Kitchen Trends Study. The benefits to granite are many: it's stain resistant (when sealed), sanitary, easy-to-maintain, durable, and strong.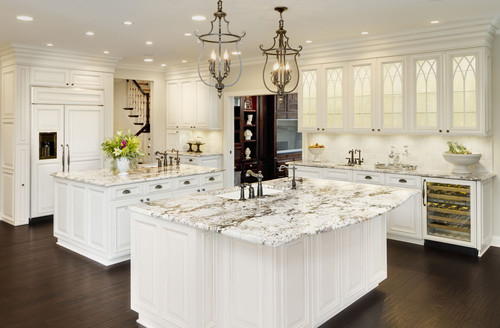 2. Quartz
A very close second to granite, quartz is an engineered stone that has become a design favorite in recent years. Quartz is made out of stone chips, resins, and pigments; and it is non-porous, making it totally stain resistant with no need to seal the surface.   
3. Solid Surface
Originally created by DuPont in 1967 under the brand name Corian, solid surface countertops are valued for their beauty and ability to be shaped in unique ways. This acrylic product is seamless and provides a durable, hygienic, and nonporous surface.
4. Butcher Block
Butcher Block countertops have been around a long time, but have surged in popularity recently. The warm woods add a timeless element which creates a comforting vibe in modern kitchens. Butcher block countertops do demand a little care and respect, however. On the plus side, stubborn stains and knife nicks can always be sanded out.
Whatever countertop surface material you choose, you'll want to protect your investment with
Countertop Support Brackets
that are up to the task. You can depend on The Original Granite Bracket®, with our many years of experience in granite fabrication and kitchen design, to help you discover the right bracket for your project.
Connect with us
–we're here to help!